Component TRA: Training and continuing education program, under contract GD5 – Information and Communication Technology; Project on Water Loss Reduction; strengthen and expand the water supply network and strengthen institutions for Saigon Water Supply Corporation in the 2011-2015 period
Client: Saigon Water Supply Corporation
Capital source: Asian Development Bank (ADB)
Duration: 5/2017 – 7/2019
Project summary:
Conduct initial contact with SAWACO technical staff, project contractors and study related documents to gain an in-depth look at the human resource management system, training needs assessment and Unexpected work may occur during the implementation of the respective components.
Identify technical, non-technical and foundation capacities for each position in SAWACO. Conducting a training needs assessment of employees in SAWACO and member companies.
Recruiting, selecting, training, organizing and supervising a group of HR professionals at SAWACO, so that members can perform any task to achieve and control goals. of the TRA component and ensure future maintenance.
Establish a continuous training management system for SAWACO technical staff to set up and implement SAWACO's Strategic Training Plan for technical staff.
Propose the company's criteria and guidelines for approaching Information and Communications Technology (ICT) positions. Design career development plans, job promotion, and job rotation for SCADA system staff.
Strengthen the conditions leading to the application of knowledge management culture in SAWACO with a system of creating, sharing and managing knowledge available to the entire organization, with particular emphasis on SCADA.
Promote conditions for adopting a continuous improvement culture related to the SCADA system.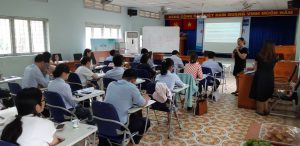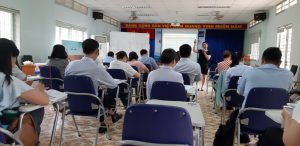 Photos from training courses